Moritz Koch, Percussion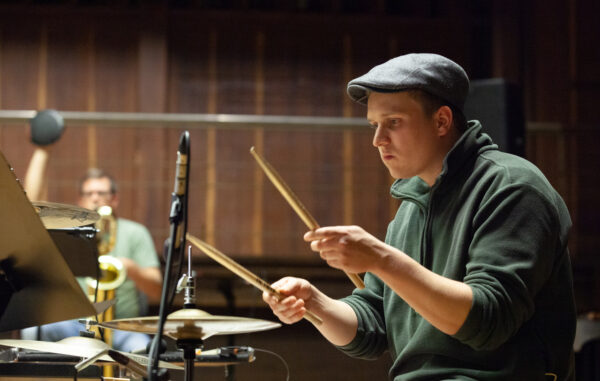 Moritz Koch (1997) will graduate from the Solo Class of HfMT Cologne in Summer 2023 with Dirk Rothbrust and Carlos Tarcha. In 2020/21 he was a member of the Ensemble Modern Academy. Meanwhile he is initiating social art projects in cooperation with Tonali Hamburg.
He is a fixed member of ensemble hand werk and works regularly with internationally known ensembles such as Ensemble MusikFabrik, Ensemble Modern, Ensemble Tempus Konnex and many others. His concert activities range from jazz drums and percussion to classical concerts with HR- symphonie orchestra, Bremen Philharmonic and Deutsche Oper Düsseldorf. For several years he has focused on contemporary music, specializing in ensemble playing and working directly with composers of our times. Concert tours in this field have taken him to Argentina, Thailand, China, Brazil, Israel, Poland, Denmark, Greece, The Netherlands and in Austria and Germany. Last year he produced CD recordings for NEOS and Kreuzberg Records.
Moritz graduated from Bremen Academy of Arts (BA) in 2019, and Frankurt am Main Academy of Music and Performing Arts (MA) 2021.
contact: moritz@ensemble-handwerk.eu