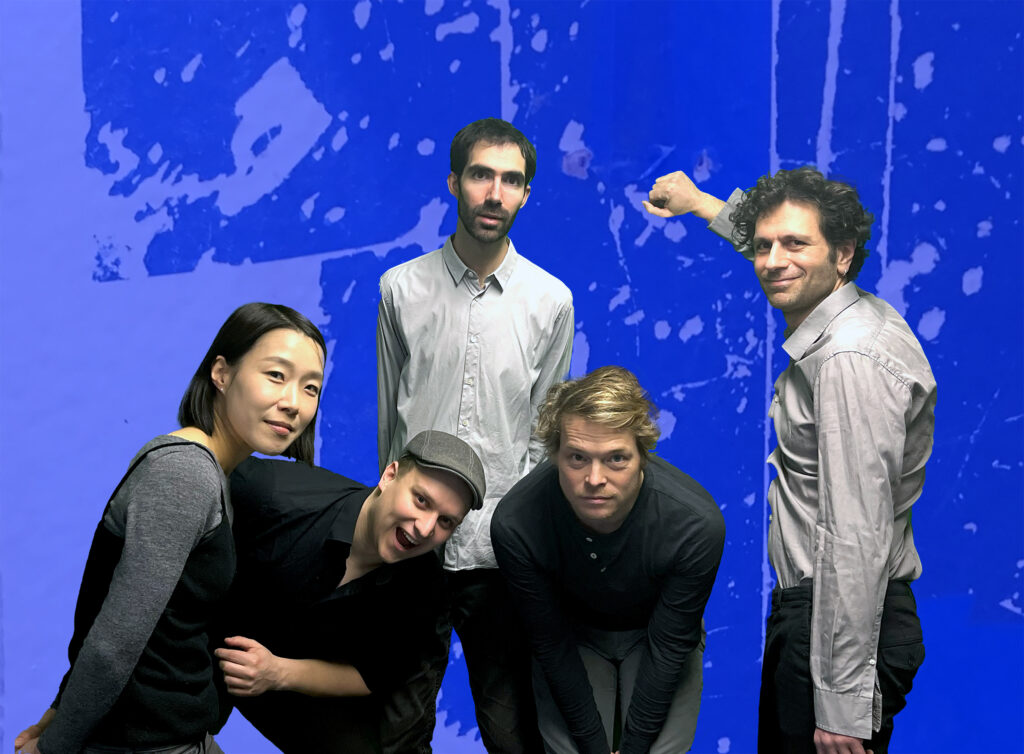 hand werk
[`hand vɛrk]
Daniel Agi_ Flute
Heni Hyunjung Kim_ Clarinet
NN _ Violin
Niklas Seidl_ Violoncello
Thibaut Surugue_ Piano
Moritz Koch_ Percussion
hand werk, ensemble for contemporary music, was founded in 2011 and has since been championing new works at a high artistic level, with a focus on the "sustainability" and "reusability" of the works they commission. They dedicate themselves to working on, refining, and keeping alive new compositions which are otherwise often played once and then forgotten in our fast-paced society. "handwerk" means craft, and the ensemble places their craft, as well as care for the composition and quality of the interpretation in the foreground of their work. In this way, ensemble hand werk serves the long-term maintenance of contemporary music.
The Pierrot plus percussion instrumentation of the ensemble is often augmented by everyday objects, self-made or electronic, enabling the six musicians to perform a wide range of compositions, from the standard contemporary repertoire to new creations, experimental interdisciplinary projects, and music theatre.
hand werk has been heard at renowned festivals such as the Wittener Tage für neue Kammermusik, Darmstädter Ferienkurse, Festspiele Bayreuth, Ultraschall Berlin, Ruhrtriennale, NOW! Festival, the Münchener Biennale, Acht Brücken in Cologne, Muzički Biennale Zagreb, Crossroads Salzburg, Transart Festival Bolzano, impuls Festival in Graz, Gaudeamus in Utrecht and Warsaw Autumn and has recorded several CDs and been featured on numerous radio broadcasts: Timothy McCormack: Apparatus / Myunghoon Park: Seeds (Wittener Tage Für Neue Kammermusik, Kulturforum Witten 2012), kurzwelle (ON – Neue Musik Köln, 2017), Lisa Streich: Pietà (Wergo, 2018) and Sergej Maingardt: Rush (Wergo, 2021) with SMOG. Their performances have taken the ensemble to the US, Australia, Israel, and many cities in Asia and Europe. Since its inception, hand werk has been working intensively on developing new concert experiences, such as their home concert series in Cologne: HW23C_.
The six-piece chamber music ensemble hand werk, founded in Cologne in 2011, strives for sustained repertoire cultivation, technical precision and the highest artistic level in the field of contemporary music. In addition to international concert tours to Asia and the USA, hand werk has been a guest at festivals such as the Darmstadt Summer Courses, Bayreuther Festspiele, Wittener Tage, Ultraschall Berlin, NOW! Essen, Acht Brücken Cologne, Zagreb Biennale, impuls in Graz, Gaudeamus in Utrecht and Warsaw Autumn and is involved in the production of several CDs. For six years now, the ensemble is organizing the ongoing concert series HWxxC_ with four editions per year.